Macro-economic Profile
Mauritius, a strong and diversified economy
Mauritius has a vibrant economy with an impressive track record of sustained growth.
With its technology-oriented approach, the country extends its leading position in Africa.
Macro-economic profile of Mauritius
Economic growth: No recession in 37 years
Mauritius belongs to the very few countries in the world that have experienced uninterrupted annual economic growth for more than three decades. Since 1981, there was no recession in Mauritius.

Between the 1980s and 2000, Mauritius experienced robust economic growth which propelled the country to the rank of upper middle-income status. At the same time, Mauritius achieved full employment and wages rose relative to other countries. This led to a shift from a labour intensive to a capital intensive growth model. Compared to peer countries, over the past 15 years, Mauritius' growth rate was relatively stable and had the smallest fall in growth during the 2009 global financial crisis, maintaining a positive growth rate over this period. For the coming years until 2022, the World Economic Forum expects growth rates between 4.0 and 4.5%.
Mauritius is an upper middle-income country with activities evenly distributed over many sectors, making the national economy robust and resilient against potential external shocks.
Primary (agriculture, forestry, fishing, mining): 4%
Secondary (industry): 21.8%
Tertiary (services): 74.1%
Other aggregations:
Export-oriented enterprises: 4.9%
Tourism: 8.0%
ICT: 5.6%
Global Business: 5.7%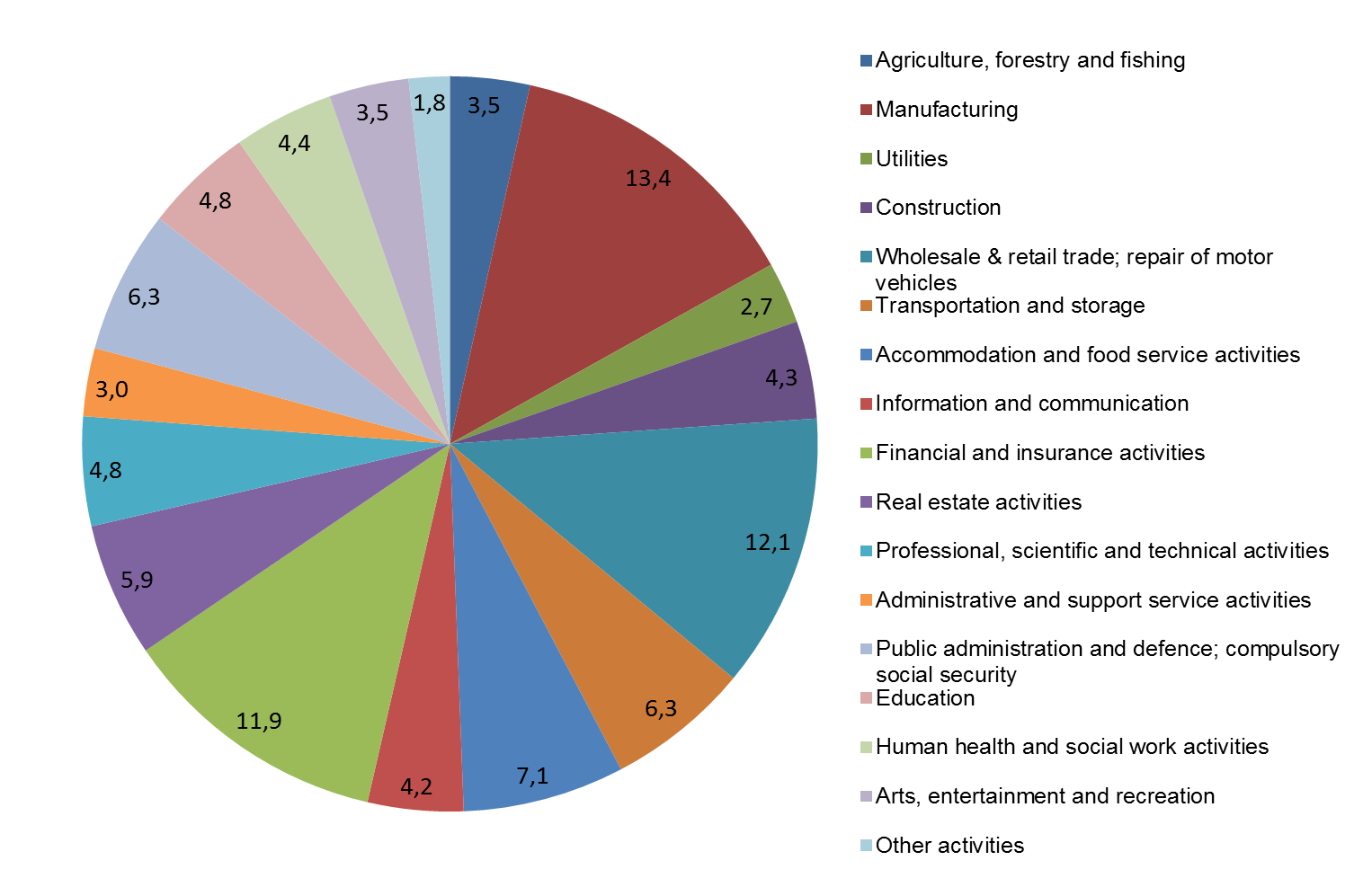 Percentage Distribution of Gross Value Added by industry group at current basic prices, 2017
(Data source: Statistics Mauritius,

under the aegis of the Ministry of Finance & Economic Development)
Key Sectors
The Financial Services sector is the future
Financial and insurance activities show the strongest growth in 2018, followed by ICT, tourism and trade.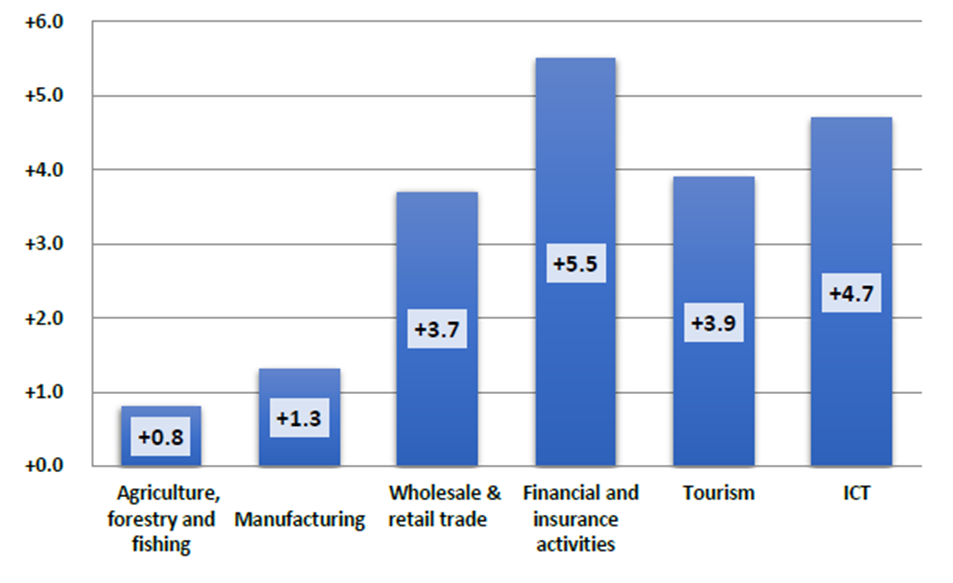 Percentage Growth Rates of GDP Contribution of main Sectors in 2018
(Source: Financial Services Commission, Mauritius
)
Macro-economic Indicators
Financial Situation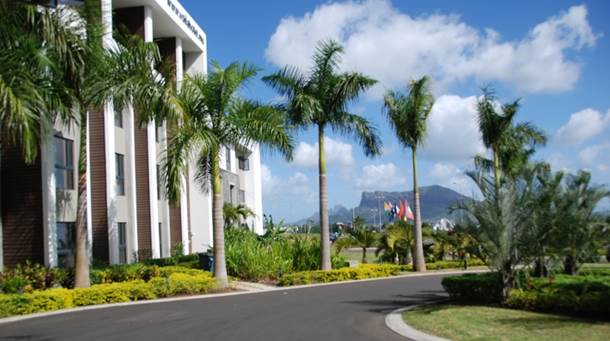 Key figures show evidence that Mauritius is in a financially healthy situation:
Population: 1.36 million people (July 2018e)
GDP growth: +3.8% (2017)
GDP per capita (PPP): $22,300 (2017e)
Consumption expenditure of the government as a % of GDP at market prices: 15.1% (2017)
Budget Deficit (% of GDP): 3.2%
Public sector debt  (% of GDP): 63.4%
External debt: $20 billion (2017)
Consumer Price Index: +3.2% (2018e)
Savings rate (% of GDP market prices): 10.9% (2017)
Main import partners: India 17.9%, China 15.7%, France 11.1%, South Africa 9.7%

(2017)

Main export partners: France 16.7%, US 12.5%, UK 12%, South Africa 9%, Madagascar 6.7%, Italy 6.6%, Spain 5.2%

(2017)

Unemployment rate: 7.1% (2017e)