Entry regulations from 11th March 2022 onwards
Vaccinated Guests
A negative PCR test before entry is no longer required.

Persons entering the country are now only tested on the day of arrival (at the hotel in case of a pre-booked hotel stay; at the airport in the other cases).
Unvaccinated Travellers
The quarantine rule for unvaccinated entrants (14 days "room only" in special hotels) has been lifted.

In the future, unvaccinated entrants against Covid-19 will only have to spend 7 days in self-isolation in accommodation of their choice.

Apart from a test on the day of arrival, no further tests are required.

From the 8th day onwards, one can move freely.
Travel restrictions from 1st Oct 21 to 10th Mar 22
Vaccinated Guests
Full opening of the island!
Enjoy a stay in one of Mauritius' beautiful hotels
Freely explore the island and its attractions throughout your holiday
You must present a negative PCR test taken within 72 hours prior to departure to be allowed entry in Mauritius
Unvaccinated Travellers
Book a 14-day quarantine including meals and transfers in an officially designated hotel.
You will be required to stay in your hotel room for 14 days and meals will be delivered to your room
You will undergo a PCR test on arrival day and on days 7 and 14
After a negative PCR test on day 14, you can freely explore the island and move to a different accommodation or go home.
History of COVID-19 in Mauritius
The national lockdown has been relaxed as of April 1. Everything is open again, only the beaches are still closed for the time being. Masks are mandatory in public.
The former Red Zones no longer exist. A new Red Zone affects only a few small villages. The last Red Zone will be lifted on June 7. 
All flights to Mauritius will remain suspended until July 31. Occasional flights from Mauritius to Paris and Dubai will take place.
The national lockdown has been extended; phase 1 of the reopening will begin on March 31, 2021.
Supermarkets, stores, doctors' offices, pharmacies, bakeries, banks and gas stations are open under strict sanitary measures.
The towns of Curepipe, Floréal, Midlands, Vacoas and Phoenix form the so-called Red Zone, which may only be entered or left under certain conditions.
All flights to Mauritius will remain suspended until April 15. Occasional flights from Mauritius to Paris and Dubai will take place.
After some locally transmitted cases of COVID-19 appeared in Mauritius, a  National Lockdown was announced from 10 to 25 March 2021.
As part of the restrictions, all activities will remain closed except for the police, port, airport, fire services, health, pharmacy, and security services.
Supermarkets, superettes, shops, bakeries and petrol stations will remain open with strict sanitary measures. Access to these services will be in alphabetical order.
A curfew has been imposed for the cities of Curepipe, Floréal, Midlands, Vacoas and Phoenix.
All flights to Mauritius have been suspended for one week as from 07 March 2021.
Long period of no COVID-19 in Mauritius
Mauritius and COVID-19: Normal life was possible from 15 June 2020 to 9 March 2021. All restrictions were lifted, with two exemptions:
In public you still have to wear a face mask, although in practice this is handled quite relaxed.
All arriving passengers have to stay in strict quarantine for 14 days, in one of the specially approved quarantine hotels; this regulation is valid for the time being until 31.05.2021. In addition, passengers must present a PCR test not older than 5 days at check-in.
Current information can be found here.
For more information on the vaccination program launched on Jan. 26, 2021, click here. The government aims to vaccinate 60% of the population to achieve herd immunity. Travelers with proof of immunity will soon be allowed to enter the country without quarantine.
The beaches and nature parks were open, and all public facilities were freely accessible. Restaurants, cinemas, gyms, meeting places etc. are open again. There was no more social distancing. Romance in twos and celebrations among friends were possible without restrictions – what a difference to most European countries!
Mauritius is looking forward that this favourable situation will resume soon.
Important points for emigrants
People who want to emigrate wonder how the government of their destination country behaved during the coronavirus crisis and what measures it took against COVID-19. After all, demonstrated behavior in the past allows conclusions to be drawn about probable behavior in the future in similar situations. When compared with other countries, Mauritius looks very good:
Corona Measures: Comparison Mauritius – Germany
The difference between Germany and Mauritius regarding the anti-corona measures imposed is huge: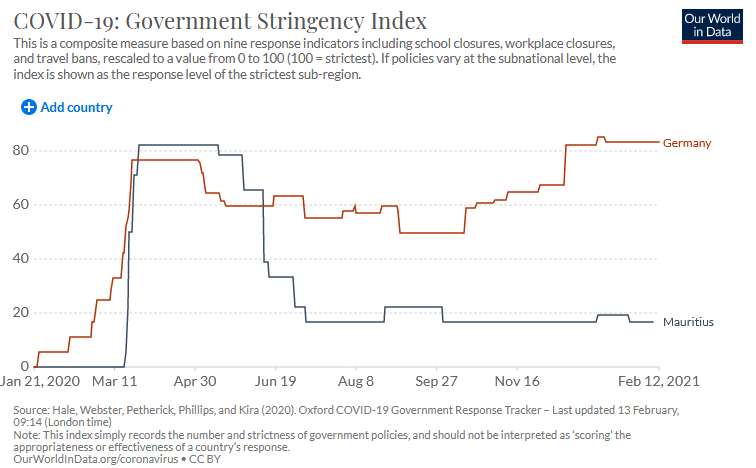 For more comparison graphs, click here.
Update 25 March 2021: During the new lockdown, the chart looks differently. The GSI Index of Mauritius currently stands above 90.
The Oxford Coronavirus Government Response Tracker (OxCGRT)-project calculate a Government Stringency Index, a composite measure of nine of the response metrics.
The nine metrics used to calculate the Government Stringency Index are: school closures; workplace closures; cancellation of public events; restrictions on public gatherings; closures of public transport; stay-at-home requirements; public information campaigns; restrictions on internal movements; and international travel controls.
The index on any given day is calculated as the mean score of the nine metrics, each taking a value between 0 and 100.
Important points for emigrants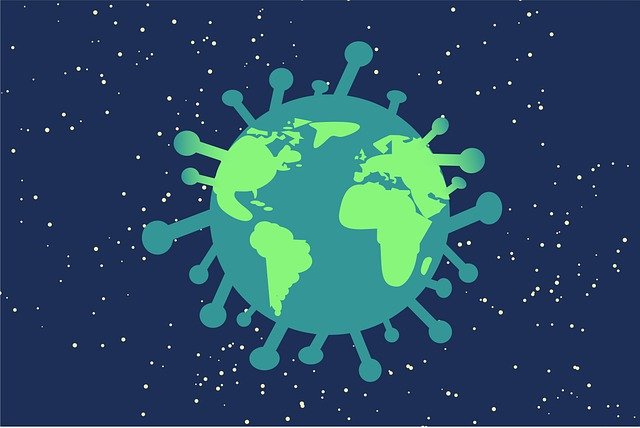 Some states, which were considered popular emigration destinations in the German-speaking world, showed an unexpectedly unfriendly, sometimes even disturbing face. Draconian measures, preventing tourists from returning home, discrimination against foreigners, and the use of police violence turned quite a few countries previously considered peaceful and liberal into forced residences with sometimes very unpleasant living conditions, with sometimes great regional differences.
These countries include Italy, Spain, Morocco, Dubai, Thailand, the Philippines, China, Panama, Paraguay, Ecuador and others. If you don't want to experience any unpleasant surprises in the future, it is better to avoid these countries.
When compared to other countries, Mauritius looks very good. Click here for Government Stringency Index comparisons between Mauritius and constituents from the following country groups: North America, SouthAmerica, Middle East and Asia, Far East and Pacific, Mediterranean Rim Countries, Island Countries, Tax Havens, Popular Emigrant Countries, Preferred Destinations of Digital Nomads, and "Measure Denial Countries."
Measures by the Government of Mauritius against Covid-19 in 2020
The lockdown in Mauritius ended on 31 May. There have been al,most no new locally transmitted cases since April 26. A few new imported cases by returning Mauritians are in quarantine. Mauritius is CV-free (and stayed free until 09.03.2021).
The drug Hydroxychloroquine, which has been confirmed in many studies to be effective against COVID-19, is approved in Mauritius and is recommended by doctors and hospitals.
Practically demonstrating solidarity instead of calling for wealth tax, forced expropriation or equalization of burdens: The Prime Minister has created the 'COVID-19 Solidarity Fund'. The politicians set a good example: All parliamentarians donate 10% of their salary to this fund for one year!
Application of the polluter-pays principle instead of arbitrary redistribution: Only large and profitable companies that have taken advantage of state aid must pay 15% of their future profits into the COVID-19 Solidarity Fund. As a result of this de facto tax increase, their tax burden (corporate tax) rises from 15% to 30%. The remaining companies will not be charged.
In addition, an already existing solidarity levy on private income was increased: On income components (incl. dividends) exceeding MUR 3 million (approx. EUR 62,000) per year, a solidarity levy of 25% has been levied since July 1, 2020, but capped at 10% of total income (after deduction of one-time payments from pensions, life and accident insurance).
The Bank of Mauritius, which up to now has invested its reserves internationally, is now authorized to invest in the domestic economy by amending regulations.
There was no use of force by the police in enforcing curfews and other restrictions, in contrast to many Latin American and Asian countries, which have thus disqualified themselves as potential emigration destinations.
Findings from the course of the pandemic so far
In general, during the crisis it became apparent that island states and areas that can be easily sealed off brought the spread of the SARS-CoV-2 coronavirus under control much better and faster than countries with land borders to other states. This is not really surprising.
In possible future pandemics, in which the virus may not be as comparatively harmless as SARS-CoV-2, which has death rates and spread patterns more similar to those of a severe flu (confirmed for Germany by the ifo Institute on May 21), island states such as Mauritius are again likely to be among the safest areas.
Prevention of a severe course of COVID-19
Strengthening of the immune system

Many medical studies have now shown that the individual can protect himself well against a possible severe course of COVID-19 by a good immune system. The vitamin D status plays a prominent role in this. Vitamin D is produced by the skin when it is exposed to intense sunlight. Mauritius offers ideal conditions for this – both geographically (proximity to the tropics; no winter with too little sun) and climatically (many hours of sunshine)!
Drugs containing the active ingredient hydroxychloroquine have been shown to be effective in the clinical treatment of COVID-19 patients, especially when administered early after the first symptoms appear and in combination with certain other drugs. Hydroxychloroquine is approved in Mauritius and is recommended by doctors and hospitals.
More information on the treatment of COVID-19 can be found on the excellent website of Swiss Policy Research.