Mauritius was visited by the Arabs and the Portuguese before it was inhabited by the Dutch, then colonized by the French, conquered by the British and finally released into independence in 1968.
Memorial Site at Grand Port
Early visits by Arab and Portuguese sailors
The island of Mauritius was uninhabited before its first recorded visit during the Middle Ages by Arab sailors. In 1507, Portuguese sailors established a temporary visiting base. The island's colonial history started in 1598 when a Dutch squadron landed at Grand Port. The Dutch inhabited Mauritius from 1638 to 1710 and then abandoned it.
French Colonization
France took control of Mauritius in 1715 and renamed it Isle de France. The French already controlled neighboring Île Bourbon (now Réunion). During the Napoleonic Wars, the British Royal Navy fought against the base of French corsairs in Mauritius and finally invaded the island successfully in 1810. The French surrendered on terms allowing settlers to keep their land and property and to use the French language and law of France in criminal and civil matters.
The fact that large pieces of land are still possessed by a small number of Franco-Mauritian families and the wide use of the French language in everyday life can be traced back to this historic agreement of 1810.
British Colonization and Independence
The British administration led to rapid social and economic changes. English became the official language and the island's name was reverted to Mauritius.
After slavery was abolished in 1835, the planters brought a large number of indentured laborers from India to work in the sugar cane fields. The successors of these laborers now make 50% of the population of Mauritius.
During World War I, Mauritius experienced a period of great prosperity because of a boom in sugar prices. During World War II, on the other hand, the population suffered. The prices of commodities doubled, and there was civil unrest.
In 1968, Mauritius became independent with Queen Elizabeth II remaining Head of State as Queen of Mauritius until 1992.
Since then, Mauritius is a republic within the Commonwealth of Nations.
People of three world religions coexist peacefully on a densely populated island:
Hindus 50 %
Christians 33%
Muslims 16%
Others 1%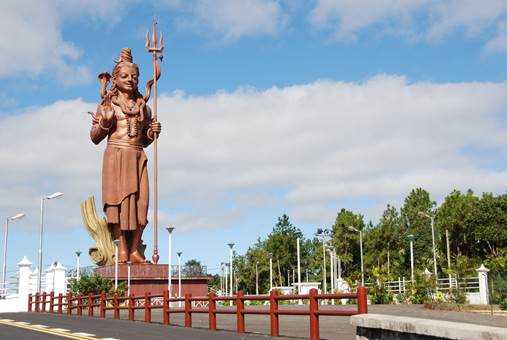 Mangal Mahadev, a 33-metre statue of Shiva in Grand Bassin at Ganga Talao lake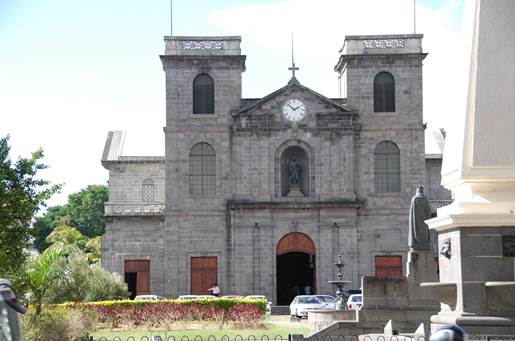 Saint Louis Cathedral in Port Louis, built 1814/15