The Republic of Mauritius is an island nation in the Indian Ocean. The main Island of Mauritius is located about 2,000 kilometers off the southeast coast of the African continent, and 800 kilometers east of Madagascar, respectively. The capital and largest city Port Louis is located on the main island of Mauritius.
South of Port Louis, there is a line of cities stretching from Beau Bassin via Rose Hill and Vacoas-Phoenix to Curepipe. More than 80 percent of the economic activities of Mauritius take place within this small area.
Plaisance International Airport is located in the Southeast. It is connected with Port Louis by a dual-carriage motorway which is going further north to Grand Baie.
The Financial Center is in Ebène, a newly built commercial city which is strategically situated between Rose Hill and Moka.
Most of the island is surrounded by coral reefs. The protected lagoons have shallow water and are almost totally free of sharks. The last unprovoked human-shark confrontation took place in the 1980s.
In comparison, swimming and surfing are banned on Réunion Island in all but a few places because of a fear of shark attacks. The geologically younger neighboring island juts out of the deep ocean much more steeply than Mauritius which attracts sharks.
The Mascarene Islands, consisting of Rodrigues, Mauritius and Réunion, are of volcanic origin. They have been formed by the Réunion hotspot and are extremely young in geologic terms. The oldest rocks in Mauritius are only 10 million years old. The other islands have been formed 2 million years ago.
There is no active volcanism in Mauritius any longer. The mountian ranges with the highest elevation around 820 meters above sea level are remnants of a collapsed caldera. Trou aux Cerfs, the highest elevation in Curepipe, is an extinct volcano.
Rodrigues is situated about 560 kilometres to the east of Mauritius. The small island belongs to the Republic auf Mauritius, as well as the archipelago of St. Brandon (also known as Cargados Carajos Shoals; 400 kilometers northeast of Mauritius) and Agalega Islands (some 1,000 km to the north of Mauritius) do. Mauritius has a very large Exclusive Economic Zone around these islands.
Reunion Island, being situated 175 kilometres southwest of Mauritius, is younger. The island is 20% bigger than Mauritius and has mountains reaching more than 3,000 meters. It has two volcanoes, one (Piton des Neiges) is dormant and the other one (Piton de la Fournaise) is active. The latter is one of the most active volcanoes in the world, erupting last in August 2015.
Mauritius is seeking sovereignty over the Chagos Archipelago which is located approximately 2200 kilometres north-east of the main island of Mauritius. It currently belongs to the British Indian Ocean Territory, whereby the main island, Diego Garcia, has been leased to the United States where they built a large naval and military base after 1971.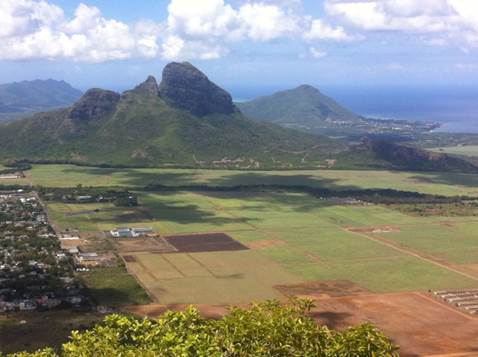 Mauritius: Low-altitude mountains as remnants of a former caldera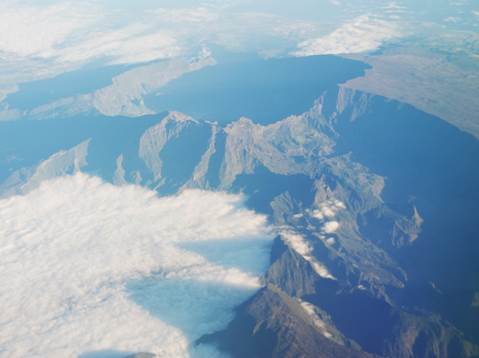 Réunion: Piton des Neiges (3070 m) in the center of three "cirques"