Mauritius' Global Ranking
TOP 13 worldwide, and #1 in Africa
Mauritius belongs to the Top 13 countries in the world in terms of Ease of Doing Business. In most other rankings, it is #1 in Africa, too.
Mauritius is ranking #1 in Africa
Doing Business
The rapid and balanced development of infrastructure and services over the last decade in Mauritius and a growing reputation as an international business center combined with a sound legal framework and fiscal policies and the regulatory and local infrastructure of a developed market have created a fertile environment for asset holding companies, investment structures and SPVs.
Mauritius is a worldwide reference for political stability and has recently been ranked as the top African country in the Doing Business Report by the World Bank. Mauritius' 2020 "Ease of Doing Business" rank is no. 13 out of 190 countries. (2019: rank #20; 2018: rank #25; 2017: rank #49)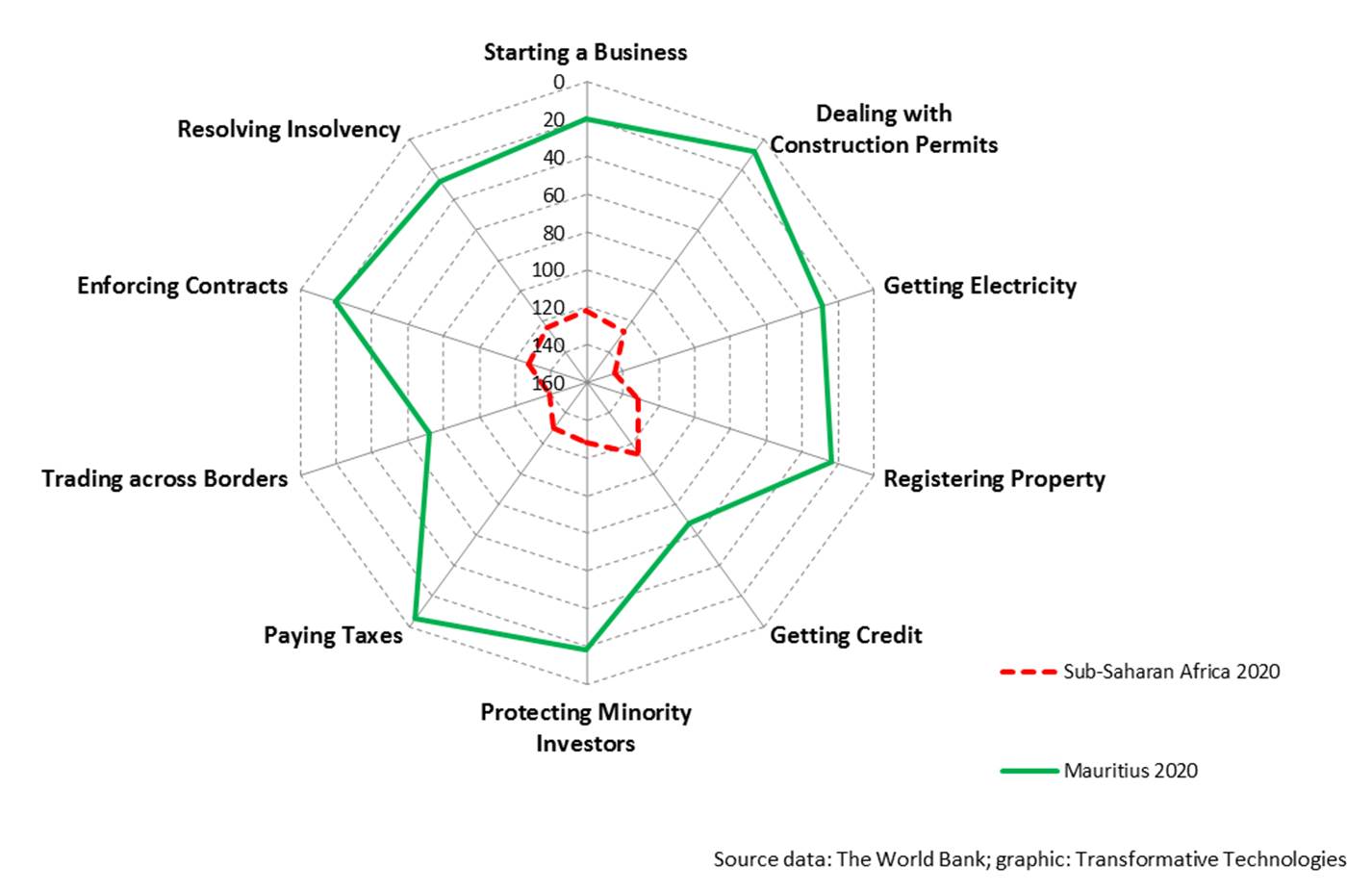 Economic Freedom
Economic freedom is a crucial component of liberty. It empowers people to work, produce, consume, own, trade, and invest according to their personal choices.
Mauritius continues to be a regional leader in economic freedom, according to the 2019 Index of Economic Freedom provided by The Heritage Foundation in partnership with the Wall Street Journal.
With an overall score of 73.0 (out of max 100), Mauritius is ranking no. 25 (out of 186) in the world, and no. 1 in Africa, directly behind of Germany (no. 24), and ahead of Japan (no. 30), Austria (no. 31), and South Africa (no. 102).
Mauritius is quite unique in the world of today, because the religions of Hinduism (48.5% of the population, according to the 2011 census), Christianity (32.7%), Islam (17.3%) and Buddhism (0.4%) coexist peacefully in a densely populated country.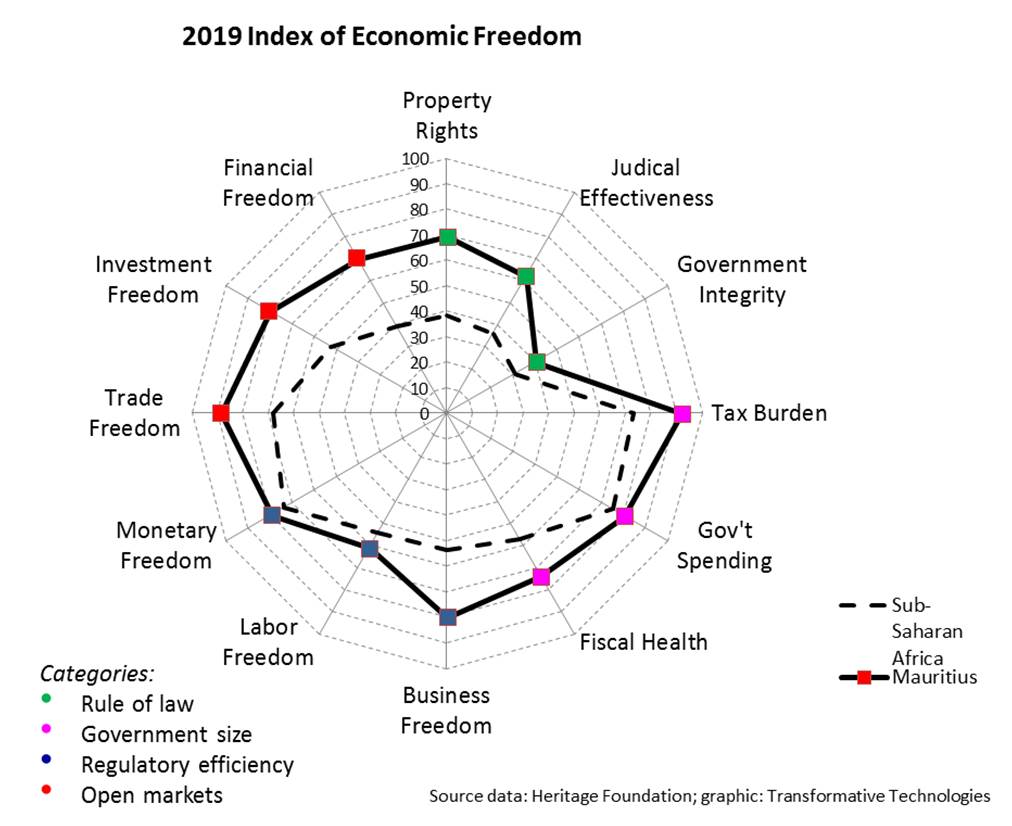 | | | |
| --- | --- | --- |
| Index | Global Rank | Africa Rank |
| World Bank Doing Business 2019 | 20 out of 190 countries | 1st |
| Global Competitiveness Index 2018 | 49 out of 140 countries | 1st |
| Corruption Perceptions Index 2017 (Transparency International) | 54 out of 180 countries | 6th |
| International Property Rights Index 2016 | 34 out of 128 countries | 3rd |
| Mo Ibrahim Index of African Governance 2016 | – | 1st |
| Press Freedom Index 2017 (Reporters without Borders) | 56 out of 180 countries | 8th |
| The A.T. Kearney Global Services Location Index, 2017 | 34 out of 50 countries | 4th |
| 2018 Index of Economic Freedom (Heritage Foundation) | 15 out of 180 countries | 1st |
| Economic Freedom of the World 2016 (Fraser Institute) | 5 out of 159 countries | 1st |
| Human Development Index 2017 | 65 out of 189 countries | 1st |
| Democracy Index 2017 – Economist Intelligence Unit | Full Democracy – 16 out of 167 countries | 1st |
| Knowledge Economy Index 2017 | 61 out of 145 countries | 1st |
| Global Enabling Trade Report 2016 | 39 out of 136 countries | 1st |
| Environmental Performance Index 2016 | 77 out of 180 countries | 1st |
| Mercer's 2018 Quality of Living Survey | 83 out of 230 countries | 1st |
| E-government development Index 2018 | 66 out of 193 countries | 1st |
| Global Information Technology Report 2016 | 49 out of 139 countries | 1st |
| Forbes Survey of Best Countries for Business 2018 | 41 out of 153 countries | 1st |
| Social Progress Index 2018 | 43 out of 133 countries | 1st |
| Global Cyber Security Index 2017 | 6 out of 193 countries | 1st |